How To Carry More Gear with Your VRack
Author Team Let's Go Aero / Category Bicycle Carriers / Published: OCT-30-2017
We've taken the concept of bicycle transport one step further in multi-function and repurposing with a system of accessories for our VRack carriers referred to Bike, Board, and Bag™. The AER cargo bag series allows you to transform sections of your bike rack into insulated and waterproof all-season storage for gear, tools, and equipment. Mounted with easy tool-free T-handles, the 9 cu. ft. AerBag rides sidesaddle using only one side of a VRack wing set, and installs quickly into any Let's Go Aero carrier (both two-bike & four-bike). Whereas, the larger 17 cu. ft AerPack hangs in the center of any four-bike rack wing set with far greater storage capacity.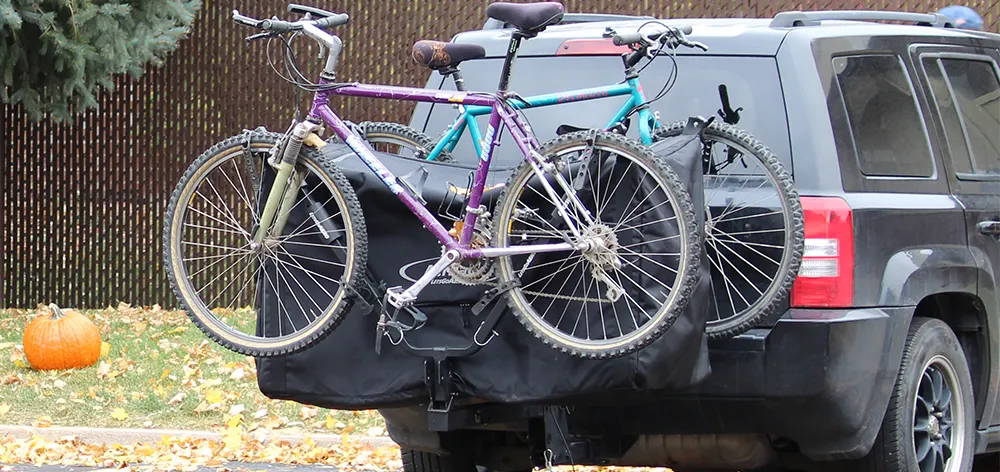 Tailored to handle all kinds of cargo, AerPack and AerBag are not only fully insulated for groceries and tailgating, but are constructed with 2520D Polyester PVC coated and waterproof Oxford fabric. Thick and rugged to the touch, these innovative bicycle rack storage expansions are double-walled and foam padded with PVC foamed sheeting and a Premium 210D Nylon inner lining to provide cushy gear protection all year-round.
Available for any Let's Go Aero VRack bicycle hitch carrier (both new and legacy models), the AER storage series simply attaches to existing wheel cradle locations for a seamless sharing of rack side bays, so to speak. Over the years, we've heard and seen the need for new ways to carry not just bicycles but typical travel and gear related items like luggage and tools. Smaller cars and micro-campers such as tear drop trailers will greatly benefit. Yet we also see large SUV owners face the same challenges with family and group travels. With winter season and holiday trips ahead, this is the ideal time to convert aBikeWing and Vme brand VRack from Let's Go Aero into a gear carrier - without leaving the bike(s) behind.
Follow along next week for our final installment in our exclusive cover series where we will discuss effective ways to cover the toughest cargo of all... bicycles.
Questions? Comments? Contact us or call our office at (719) 630-3800 to learn more.