Mounting a bicycle rack on your car or trailer can be a real pain. Fasteners, straps and hooks need to be adjusted to your bumper or trunk. Often times the rack is heavier than the bike and it's a hassle to take it off. That is why we love to get email from our customers like this from Steve and Barbara, from Jack Rabbit Mt., North Carolina:
"As far as the Vme 2 Bike Rack, PERFECT! I consider it to be one of, if not, the best rack to be had. Light weight, easy to mount, holds our 2 bicycles securely in place and, with the screw in hitch pin, no rattles. And another plus, it's easy to store when not in use, compact and light."
Happy Trails,
Steve and Barbara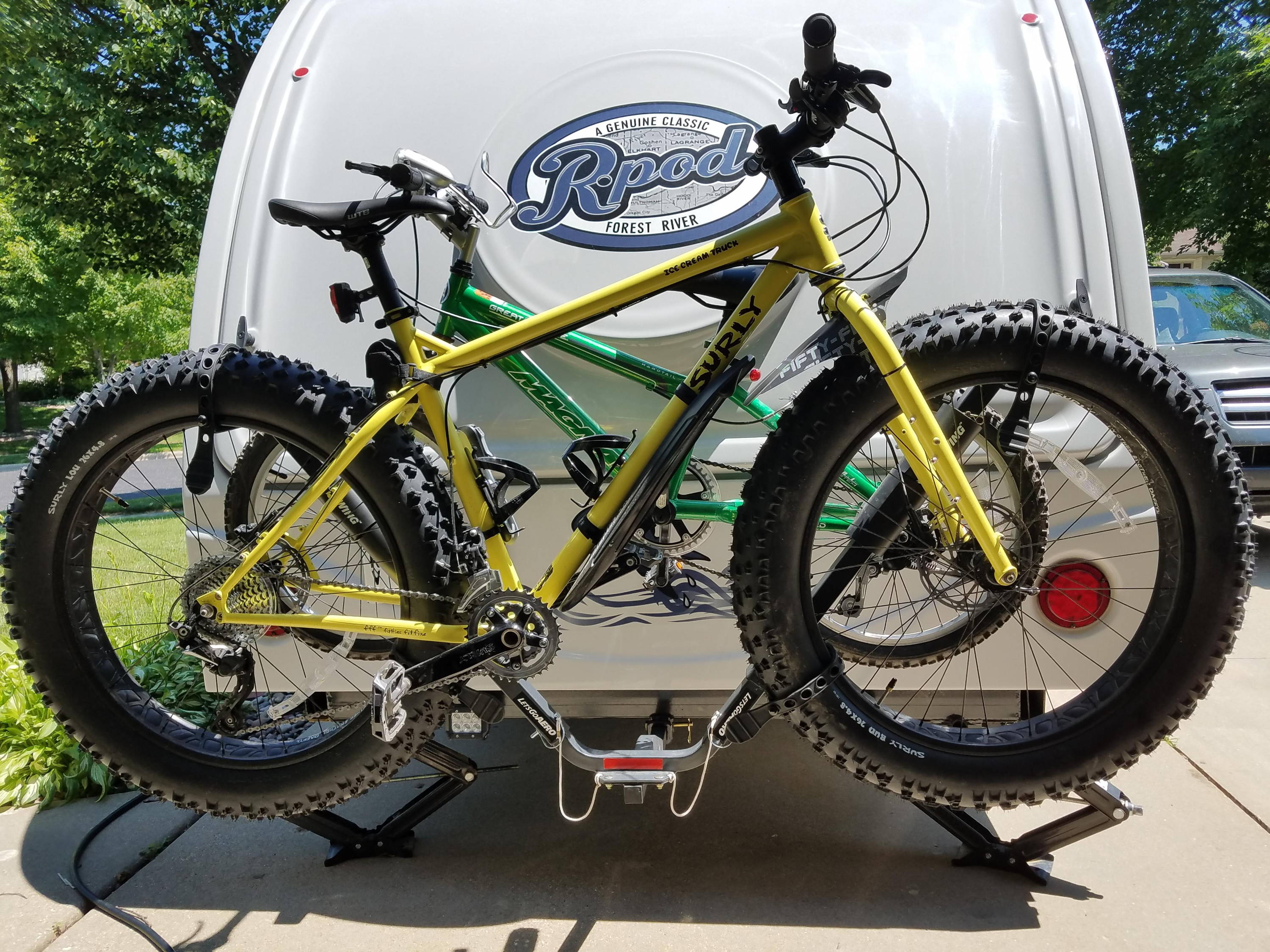 Thank you! And if you take a look at their photo you see it is mounted on the back of their teardrop trailer. That's possible because we don't use a lot of straps and fasteners that depend on a bumper or trunk seams. All of our Vme and BikeWing racks fit right into standard 2 inch hitches; our two-bike models fit into both 1 ¼" and 2" receiver hitches. Just slip it right into the hitch and secure the Vme V-2 model with the SilentACT that's included, our no-tool-required, locking hitch pin for motionless towing and a quiet, rattle free ride. This means you can mount the Vme 2 Bike Rack and the BikeWing line of racks on any car, trailer, Van, and RV that has a trailer hitch. The removable support arms are easy to take off and put on and since the entire rack is only 13 lb anyone can assemble the bicycle rack. When the rack is off it doesn't take up much room at all. You can easily store it in the trunk of your car, the hallway closet or on a shelf in the garage.
As you can see from Steve and Barbara's photo the bikes are secure and well off the ground. Even though it is a lightweight bike rack it can hold up to 100 lbs and it can hold any size bike. The support arms are adjustable with wheel cradles. This means that the cradles support the bike by its wheels and not its frame. Now any sized bike will fit, city bikes without a high top tube, recumbent bikes with long low frames, or children's bikes. And because the wheels are cradled and secured they don't rotate freely while you drive and your bike frames are not scratched by the rack. The bikes are secure and held firmly in place.
Taking your bikes on a vacation trip should be easy and hassle free. Just mount your rack onto your trailer or motorized RV and hit the road. When you are home store the rack in a compact and out of the way space. If you have photos or stories about how you mount your Vme 2-Bike Rack, BikeWing Racks, or WIngMan Racks send us a photo and tell us about it at news@letsgoaero.com and we may even feature it in our next blog.