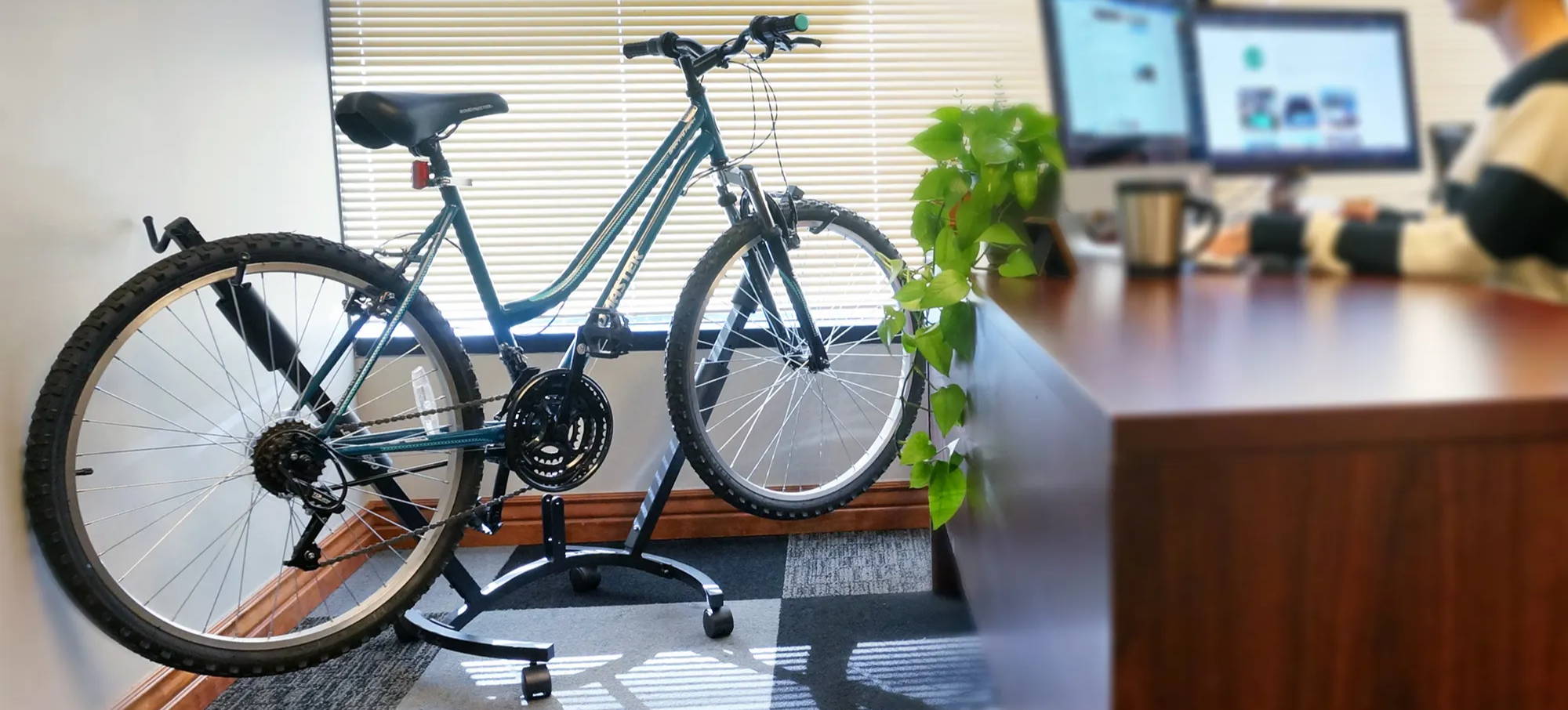 Introducing V-Tree Mobile Bicycle Storage Stand for Home, Garage & Office
Author Team Let's Go Aero / Category Bicycle Carriers / Published: Jan-24-2020
Whether you keep your bikes in your apartment or have a garage for storage, your bikes need to be stored and you recognize the importance of keeping your bicycle safe indoors away from theft and from the elements. Getting the bike through the door is easy; inside it can be hard to find a place that is not in the way as you navigate your home, which is why we turn to bicycle storage racks or hangers to keep our home in order.

There's a growing number of wall and ceiling mounts for storage choices. They require a permanent space and holes are drilled for their use. Free standing choices tend to require lots of floor space, or come with other limitations. If you're one of the 43.9 million apartment dwellers, or can identify with the constant struggle to keep a crammed garage in order, you're probably already familiar with this headache.

As part of Let's Go Aero's Bike TSO initiative (Transit, Storage, and Organization), we're addressing this in-home and garage bicycle storage challenge using our V-Rack technology with the creation of the V-Tree Mobile Storage Bicycle Stands. The V-Tree is a stylish, elegant bicycle storage solution that compliments any location including apartments, homes, offices, and garages. With three models, the V-Tree HomeBase, the V-Tree 2 and the V-Tree 4 there's several options to store two to four bicycles in a compact space that's mobile and portable.
Mobile space-saving vertical storage.
V-Tree mobile storage stands are free standing racks that use Let's Go Aero's space-saving V-Rack design to place two bicycles side-by-side, protected in the middle with soft foam bumpers. Designed with easy-roll casters, these stands are easy to move around the home or garage with just a push of the hand, so you can sweep out your garage, tuck bikes into corners or in rooms and simply roll them away when occupying that area for living. The strong and sturdy construction means no walls are needed to support the rack, unlike many other storage stand designs. Nor will bikes mar any walls from leaning when using the V-Trees. When storing four bikes, bicycles are stacked vertically for no increased footprint, whether storing two bikes or four bikes. And when not in use, V-Tree racks can be knocked down quickly for easy storage.

For owners of one of Let's Go Aero's V-Rack bicycle carriers, the V-Tree HomeBase is a modular wheeled base accessory that accepts any of the modular V-Wing support arms from any carrier to create a complete V-Tree two bike storage stand. Simply remove the wing support arms from your carrier (transferable models include BikeWing®, NEO™, Jack-IT®, TireBiter™, Nelson™), and place them on the HomeBase to create a fully featured stand-alone two bike mobile storage rack.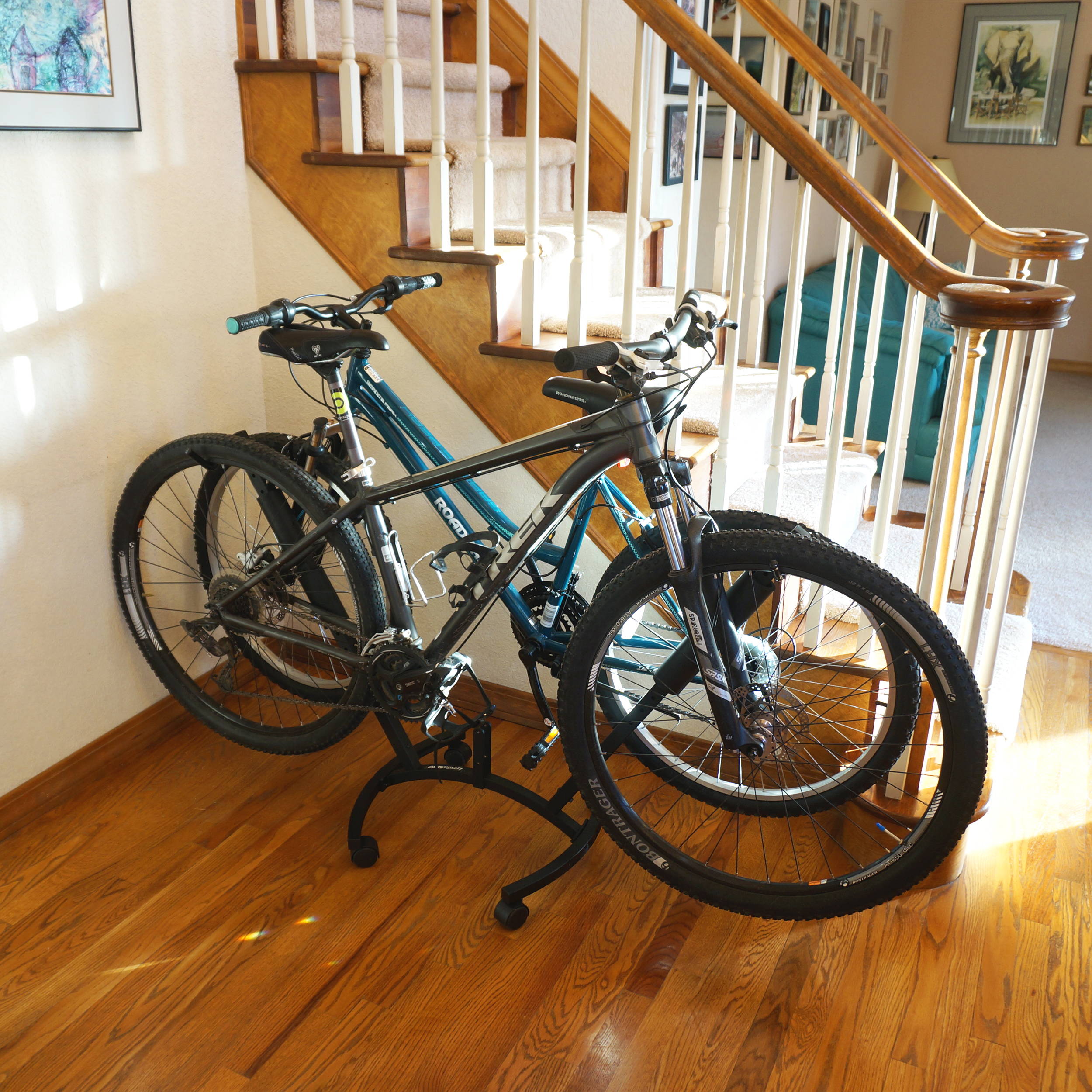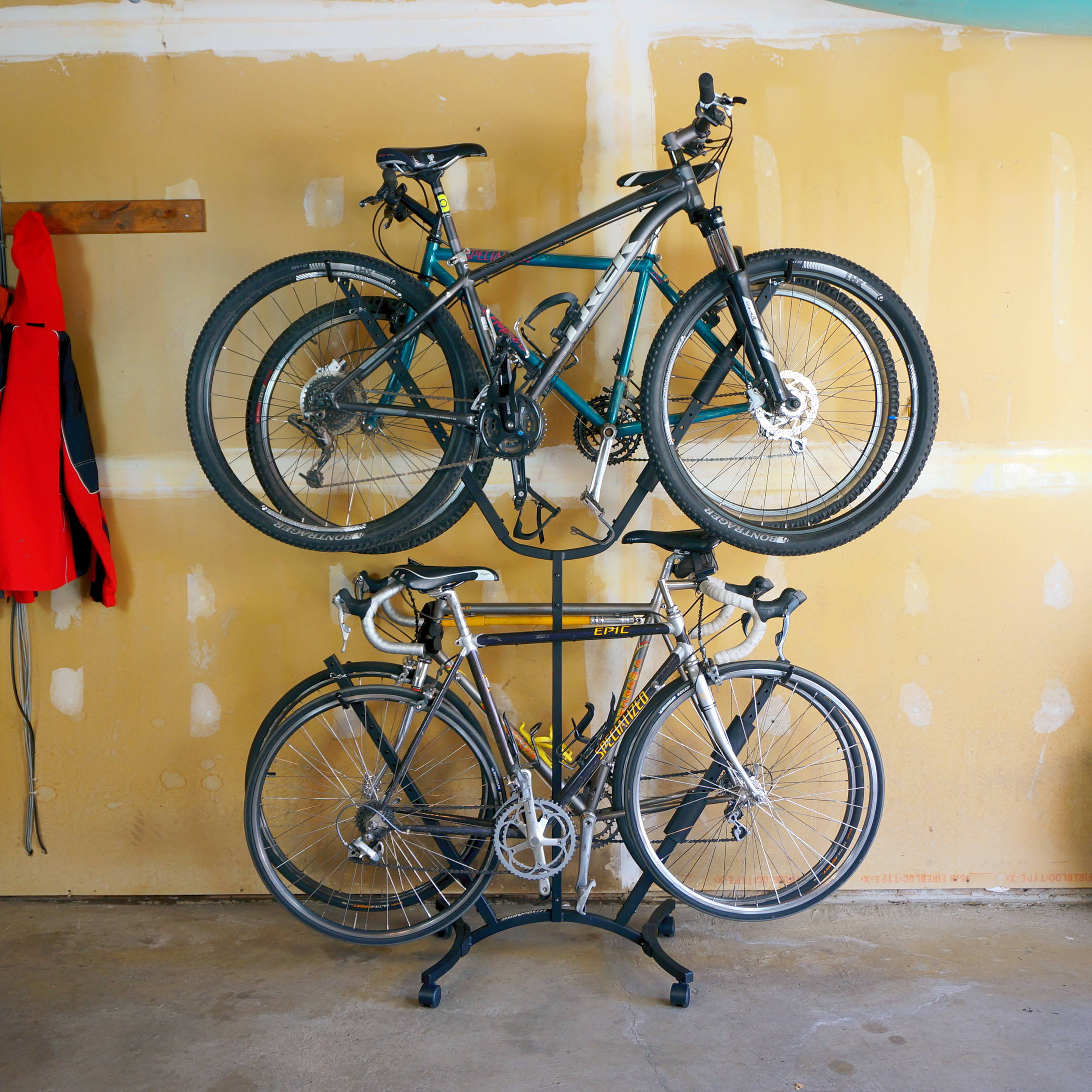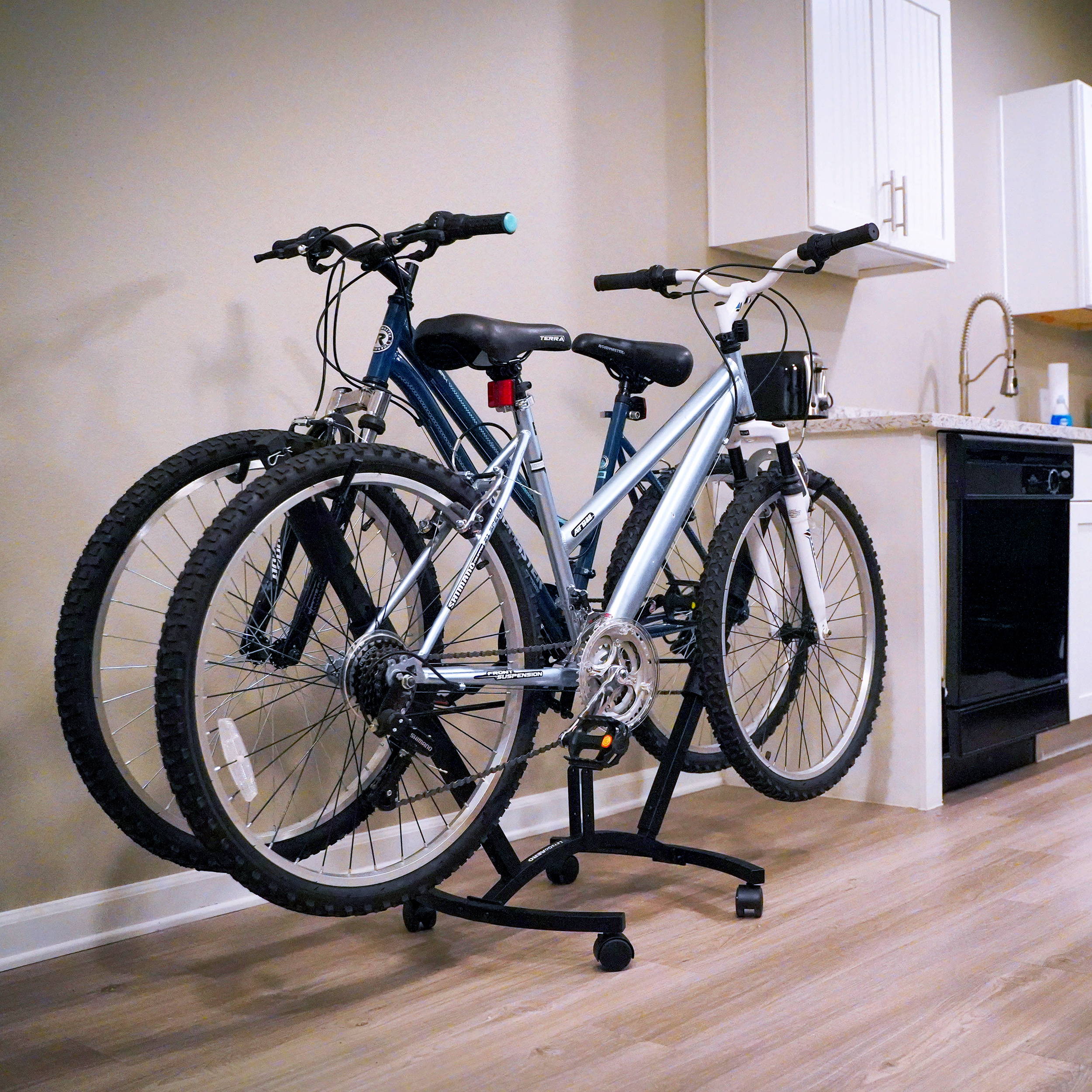 Any bike sizes, and bike frame styles.
As a V-Rack technology product, bikes are supported by the wheels. All V-Tree models conveniently accommodate both adult and child sizes, and slanted framed bikes rest level and true due to being suspended by the wheels, not the frame. The soft-touch wheel cradles that support the wheels are easily adjustable for mounting even large 29er bikes right next a tiny pink children's cruiser without a sweat. Even heavy electric bikes can be stored (up to 60 lbs per bicycle) using the V-Tree HomeBase, the V-Tree 2 or V-Tree 4 (lower section only), so you don't have to lift a heavy e-bike high on the wall or over your head. As we mentioned earlier, all V-Wings have cushioned pads for casual contact to protect bike-to-bike or frame contact.