Let's Go Aero Brings a Second Level Revolution for Truck Beds with NELSON VRacks for Bicycle Transport
Author Team Let's Go Aero / Press Room / Published: Sept-10-2019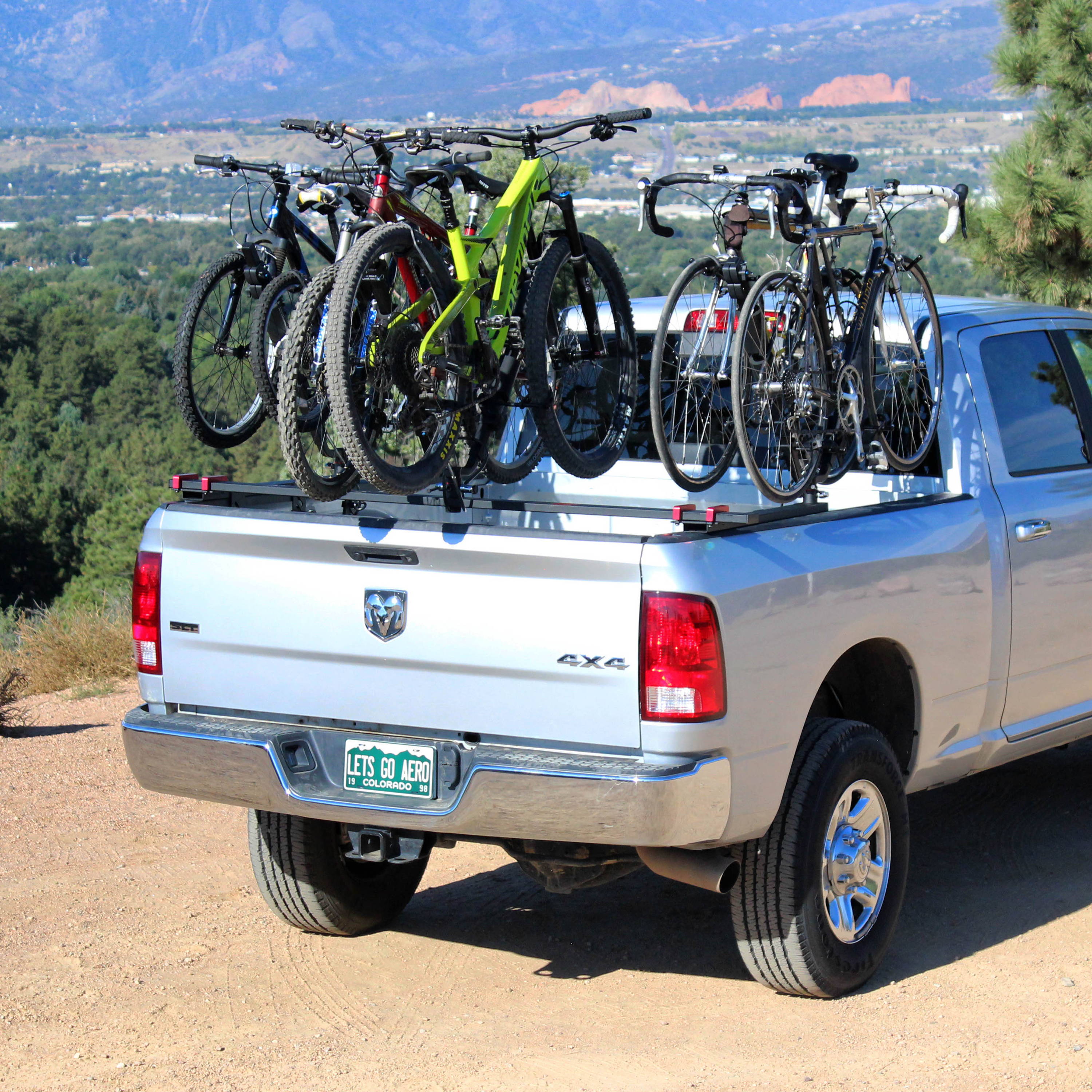 Nelson™ is an all-new bicycle and multi-sport carrier line for pick up truck beds. Using the company's cutting edge VRack™ technology, Nelson takes gear transport, storage, and organization to the second level, leaving the inside of the truck bed fully open for other cargo. Let's Go Aero is pleased to announce that shipments will start mid-October.
The Nelson family includes four models to accommodate both domestic and foreign truck makes, entailing non-channel beds (for domestics) and c-channel beds (for Toyota, Nissan, and Jeep). Varying bed mount configurations include the Full Nelson™ for all non-channel beds, Half Nelson and Half Nelson Channel models for both truck bed styles, and Three-Quarter Nelson™ for non-channel beds with an accessory hardware kit available to accommodate channel beds.
Universal to all models is two bike carrying capacity of 35 lbs per bike using the modular and removable SpinWing™, which rotates 360 degrees for easy loading and unloading access from the ground or interior of the bed. A four-point adjustable wheel grip system provides Zero-G™ stability of each bicycle, while the adjustable wings accommodate all bike sizes and frame styles. An anti-theft RingLocker™ security system is included to lock bikes to the Nelson and separately, the Nelson carrier to the truck bed.
All Nelson models ship ready to carry two bikes. The Three-Quarter and the Full Nelson include two additional sockets to carry up to six bicycles using the optional SpinWing™ Expansion Kit accessory for add-on.
"LGA works to do more with less, and the Nelson product line exemplifies this ethic clearly. Nelson and our new related products carry outdoor lifestyle equipment and tools in space that has always existed, but was unused until Nelson" states Marty Williams, co-founder and CEO of Let's Go Aero.
Let's Go Aero is an innovative Colorado based outdoor lifestyle products company focused on inventing new choices for low impact living in the outdoors and life of the road. Let's Go Aero has been inventing new solutions for the automotive and outdoor lifestyles since its founding by Sara and Marty Williams in 1998. Let's Go Aero has been recognized in the automotive, outdoor, and RV markets for its award-winning patent designs and technologies including the VRack™, Silent Hitch Pin®, TwinTube®, GearCage®, GearSpace®, Jack-IT® and other innovations.
Find out more on our blog Let's Go Aero Brings a Second Level Revolution for Truck Beds with NELSON VRacks for Bicycle Transport.
For additional information about Let's Go Aero and its products, contact company headquarters at 719-630-3800 and via media@letsgoaero.com