Our good friend Ron spent 19 Days in our LittleGiant TreeHaus Camper and shared some great photos and thoughts us! Here's his review of his journey from purchase to camping and even hauling his son's gear on moving day.
"I just wanted to write a little thank you note to Marty Williams at Let's Go Aero for designing the wonderful trailer which he calls the Little Giant Treehaus."
" My wife and I sold our truck and our 2500lb Pop up camper and were looking for something our 2015 Honda CRV could pull to camp with. I researched on line several lightweight trailers that cost upward of $10,000, when I found the LGT with an empty weight of 420lb produced less than 100 miles from my home. After meeting with Marty and discussing all the options, we ordered our own to be delivered to our house in 10 days. It arrived on schedule (May 22) and the truck driver was nice enough to use his pallet jack to roll it right into my garage. My son and I worked for two hours the first evening and got through step 13/20. The next morning,, my wife and I spent another four finishing the trailer and setting the tent up. It was very easy to do each step and each step had it's own bag of fasteners(neat concept)."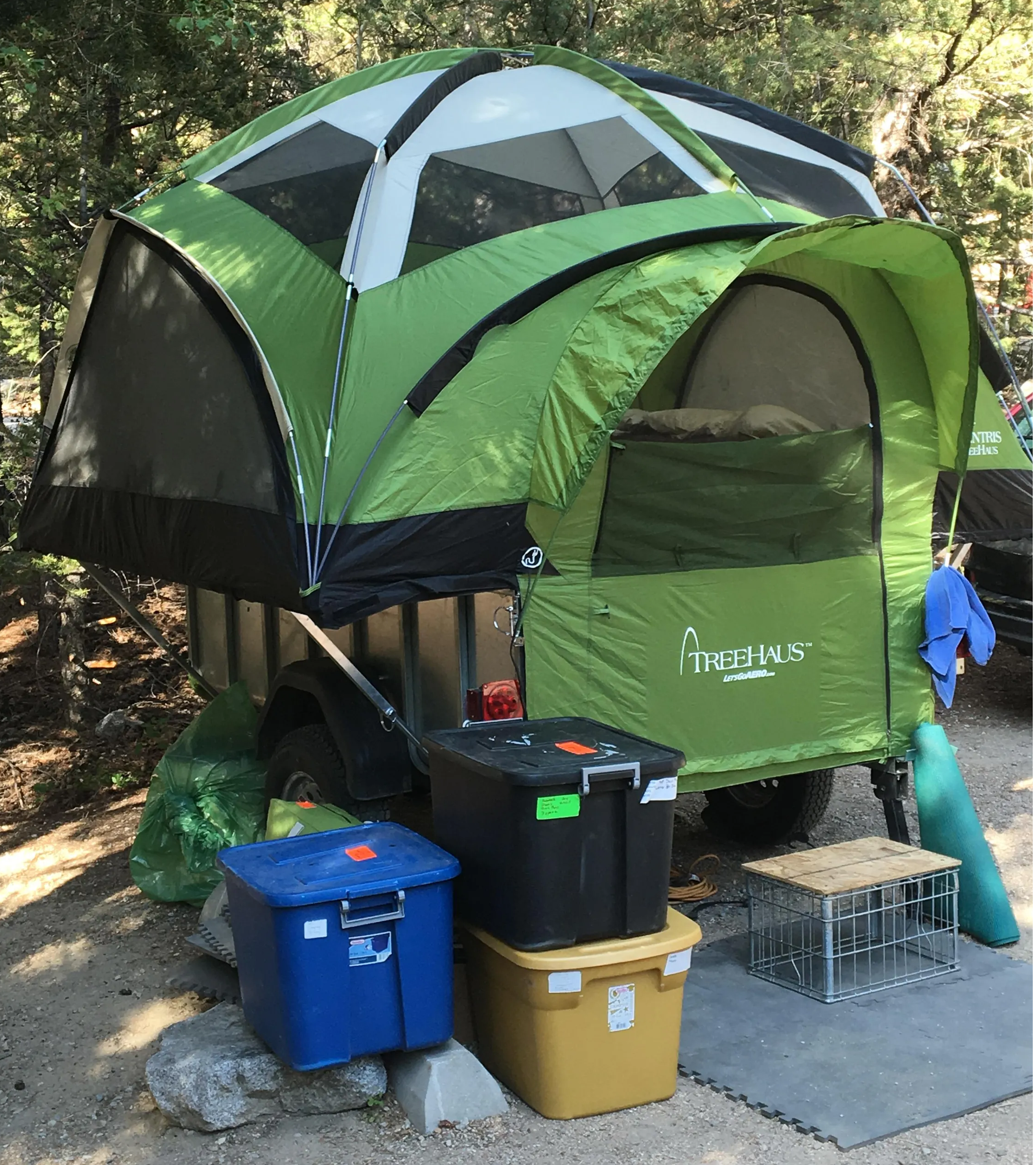 "Our first night of camping was that night in our driveway and we both fell in love with our treehaus.
During our first summer, We camped 3 nights in the Sangre de Christo Mountains near Crestone CO, Three nights in the Collegiate Peaks near Salida CO, Two nights at Flatiron Reservoir near Loveland CO, Two nights in the middle of nowhere (Florence CO). Three nights up the Poudre Canyon, and Three nights on the Green River near Dutch John UT. A total of 17 nights… for a great season." (Ron emailed later to add, "I forgot the two nights by Telluride. That makes 19!!!!")"
"When using it as a Camping trailer, it holds all my gear easily including firewood. It is very handy to keep all the gear stored. I just fill my coolers, food boxes, and water containers the night before.
When I needed to move my son, it easily converts to a utility trailer capable of 3Ž4 ton (1700lb). I also used it to transport a neighbors motorcycle to the shop, several loads to the local dump, pick up a new bedroom set.
I use it to sleep my wife and I, but another two could fit in a pinch. We added the add on room which served wonderfully as a front porch during 3 different rainy days. It pulls like a dream. Sometimes it feels like it is not even there. Our CRV mileage was only decreased from 29 to 25mpg."
Finally, on November 1, I had to pack my camping gear in the shed and store on the side of my house. (tiny footprint). We are already making plans to get out for spring trip…. Maybe Moab??" - Ron
Thanks again to Ron and his wife for these beautiful and memorable photos. We absolutely love seeing our gear in action as well as hearing about everywhere our trailers have been and everything they have done to help our customer get out and go! If you have your own story would like share with us please do not hesitate to let us know at contact@letsgoaero.com. Happy Travels.