New Fork-IT Bike Mounting System Brings Next Level Bicycle Transport on GearCage Cargo Racks
Author Team Let's Go Aero / Category Bicycle Carriers / Published: Jan-13-2018
Further expanding the storage offered by our products to fit more gear and more bicycles, Let's Go Aero introduces another value-added accessory that is ready to make waves in the gear management and cycling industry, the Fork-It Bicycle Mount Kit.
The Fork-IT is a rail mounting system that attaches to any GearCage cargo carrier (both new & legacy models) using the rack's one inch railings, allowing for the transport of bicycles above the carrier. The uniquely simple mounting kit is universal to any one inch railings, and thereby may be installed on roof bars or other cargo racks having 1 inch railings in their construction (this is not uncommon among many rack manufacturers including Thule or Yakima roof racks).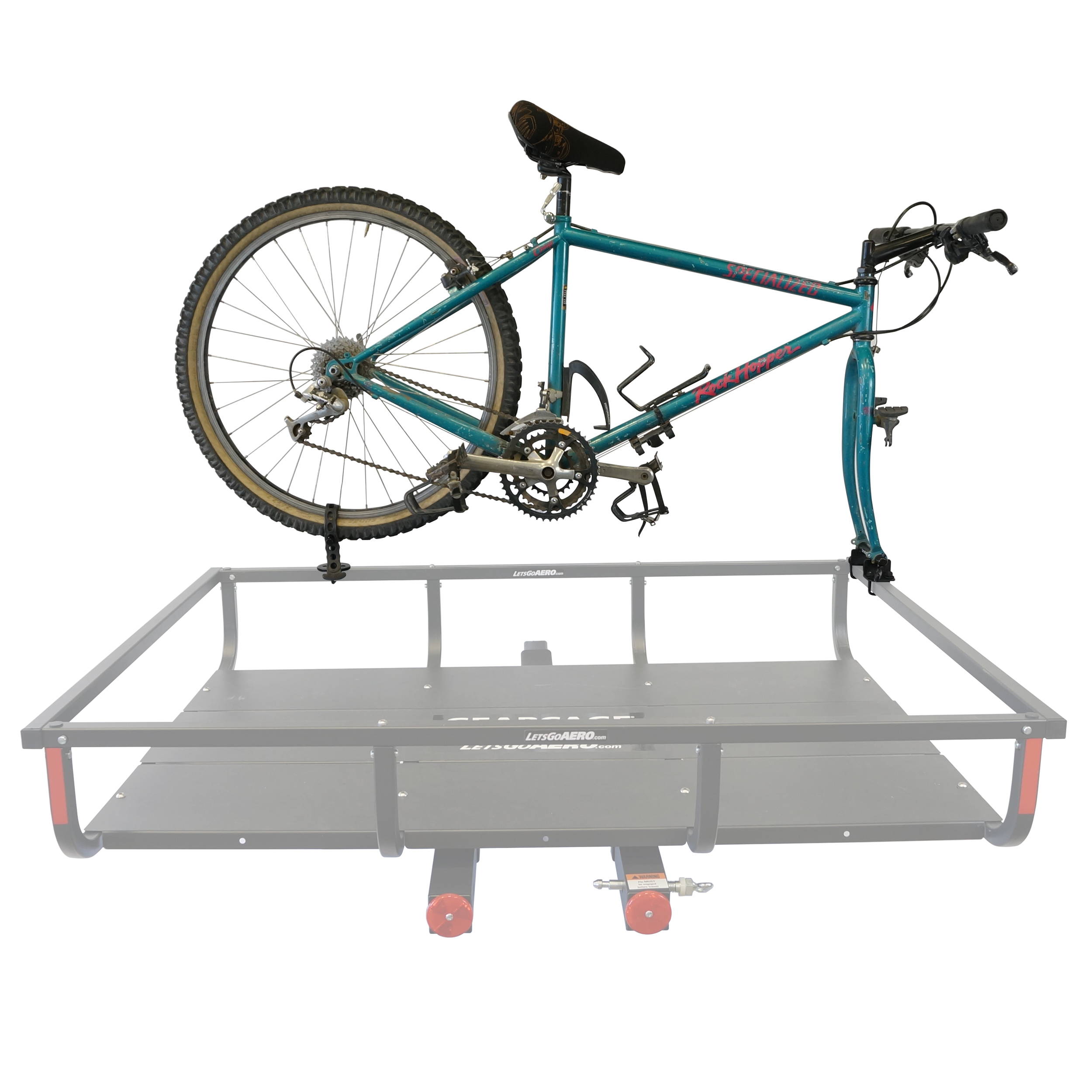 The practical design and construction leaves bicycle arrangement up to the user, giving Fork-IT owners complete flexibility for both placement in-line to the vehicle and perpendicular in a custom 3D environment. When used on the GearCage Slide-out Cargo Carrier, the Fork-IT bicycle mount system is compact and adjustable enough to fit up to 4 (FOUR!) bicycles on the GearCage-4 and a whopping 6 (SIX!) when transported in-line with the vehicle on the GearCage-6 (one Fork-IT mount needed per bicycle, sold individually).
Comparatively weightless at only 2 lbs, the Fork-IT's utilizes a two-part system, the Quick-Release Fork Mount and the adjustable Rear Wheel Stop for a tight bicycle grip. The handy M9 x 116mm quick-release fork mount is easy to use, while the Rear Wheel Stop includes an adjustable and durable rubber strap for a tight squeeze on the rear bicycle tire and a firm hold. When used on the GearCage, loading is waist-level and extremely convenient, unlike loading on the vehicle roof top.
The all-new Fork-IT's technology introduction follows Let's Go Aero's consistent pattern of innovation and our commitment to expanding our bicycle transportation and gear management line of products; we certainly have no intention of slowing down! Stay Tuned in 2018 as we role out more revolutionary products for the cycling, RV, pick up bed, and road travel lifestyle interests.