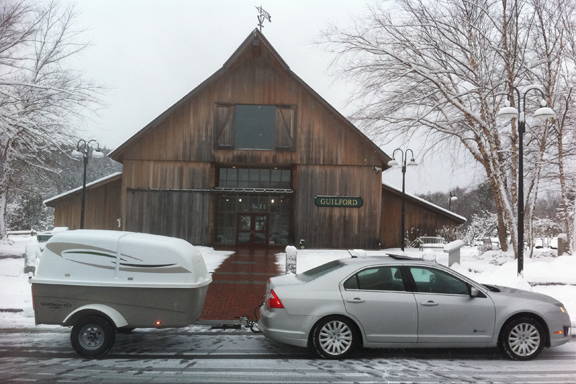 Safe Winter Travel With Your Small Enclosed Trailer
Author Team Let's Go Aero / Category Trailers / Published: Nov-21-2014
Tis' the season for winter travel in rain and snow, and...cargo management? Finding ways to bring all the holiday extras to the family gathering, or for your winter wonder vacation can be a challenge; let's try to help with that.
Depending on where you're located, road conditions can affect the safety of your road trip. If you are like most families, you will likely have lots of luggage and other gear with very limited interior cargo space. Below you'll see some photos taken from a Let's Go Aero customer who resides in Vermont, with his class I tow rated small car, the Ford Fusion Hybrid, which is hauling our GearWagon 125 lightweight enclosed trailer. Weighing only 480 lbs., and a total length of 126" with weight centered in the sweet spot over the axle wheel base, the GearWagon 125 cargo trailer is engineered for highly stable performance under all conditions.
This large yet compact "small" enclosed trailer design allows for the weight contained to be distributed over the axle, allowing for great handling in inclement conditions. In most cases, smaller cars have a light Class I rating which provies a Gross Vehicle Weight Rating (G.V.W.R.) of 1,000 lbs. and a 100 lbs. tongue weight.
"Engineered for highly stable performance..."