The next best thing to hitting the backroads with our new SPEC OPS AnyRoad Trailer is hearing how our customers are using it. We designed the SPEC OPS to be versatile and rugged. The 20" clearance means you can take it on any road a 4x4 can travel and the balanced, low rolling resistance 29" all-terrain light truck tires means our 4x4 trailer can handle all posted freeway speeds. So it no surprise to us when our customers tell us about all of the places they go and all of the things they do with the SPEC OPS AnyRoad Trailer. Here are just three customer stories.
4x4 Adventure in the Garden of the Gods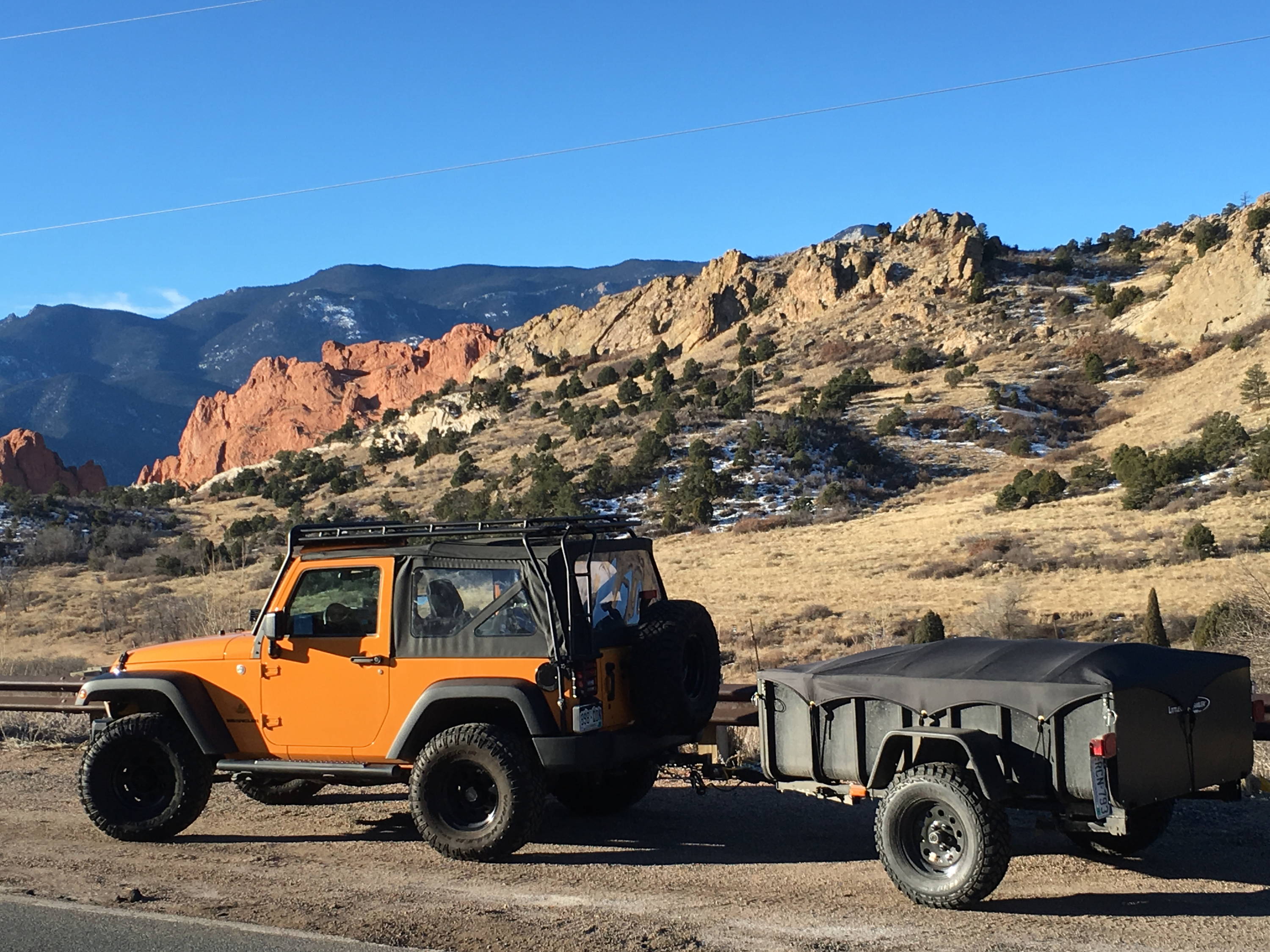 We love this photo Al sent us of his 4x4 Jeep Wrangler hauling the SPEC OPS Overlander Camper package through Colorado's Garden of the Gods. The SummitHaus tent and ArcHaus 5S Tailgate Shelter are neatly stored in their compact canvas bags leaving plenty of room for all the gear and food for a week long off road trip. Dust can be more of a problem than rain in this part of Colorado and theLeatherback Tonneau Cover is ideal for keeping the gear and food dust free. The strong Ripstop fabric is tough, tear resistant and waterproof yet light enough to be easily handled and stored away when not in use. We hear the SPEC OPS Trailer handled the off road sections like, well, like a 4x4. Sounds like it was a great trip and we are looking forward to more photos from Al in the future.
Jack is a retired school bus driver and continues to drive on as a volunteer and hits the road with his Winnebago ERA RV motor coach. Jack loves to road trip and a roomy trailer was just what he needed to bring along his bikes and other important gear. With all the road miles, large tires were important to his peace of mind. Style also matters, and combining his black motor coach with the powder coated black SPEC OPS was irresistible. TheHexCap Hard Shell Tonneau Cover was the solution he needed for protection and security. Built to fit and work with the SPEC OPS trailer the cover is lightweight (54lbs), water resistant, impact resistant, cold weather tolerant and UV resistant. Hinges in the front and two gas spring lifts make the cover easy to open and to access the trailer. The lockable rear latches make it easy to padlock and secure. According to Jack the SPEC OPS Trailer and HexCap Hard Shell Tonneau Cover is the perfect enclosed trailer for the RVer. When Jack isn't on the road he can easily remove the HexCap and use the SPEC OPS trailer for other jobs.
A Utility Trailer for Moving Day in California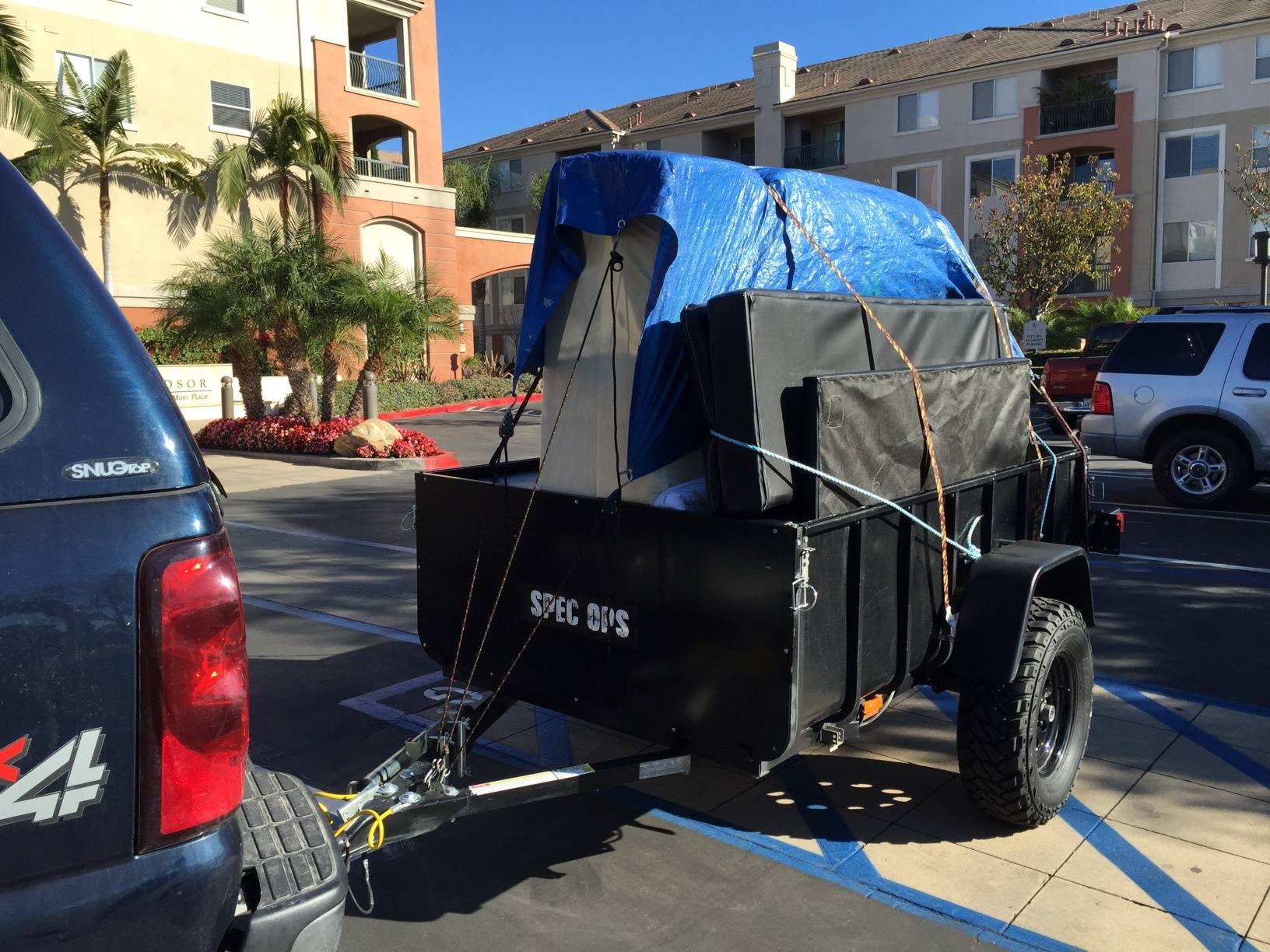 Speaking of other jobs Chris in Southern California sent us this photo of his SPEC OPS Trailer on moving day. Chris was moving out of his apartment and he didn't need to rent a moving van. The roomy 54" by 86" trailer bed had more than enough room for his bedroom furniture and the high 24" side walls kept everything easily contained. Because of the 2,000 lb payload and because the front and back panels can be removed there was no problem hauling the extra-long sofa. It was a long day moving out of the apartment but the SPEC OPS proved that it is not only an AnyRoad Trailer, it is an AnyJob Trailer. Our only hope is that Chris's friends do not realize what a workhorse SPEC OPS Trailer really is. Otherwise he'll be helping all of his friends move.