As we gear up for the summer, Let's Go Aero (LGA) always receives lots of contact from RV'ers all over North America looking for the best solutions to haul more gear to more exotic places. As travelers speak with us we always find joy in listening to them recount their adventures and campsite stories; and of course, sometimes even they even sing us their "RV Blues."
Many of these sadder songs come from Sprinter Van and Class B RV owners, who benefit from the mobility and smaller size of their camper home but suffer from a lack of storage spacer forcing RV owners to make "this or that" decisions, often at the expense of casual equipment such as outdoor tables and charcoal grills in order to make room for necessary equipment like bicycles, inflatables and generators.
At LGA, we love the wisdom and insights gathered through years of listening to our customers needs and enjoying sharing that knowledge as we create functional solutions for the outdoor lifestyle and particularly the small RV industry. More and more, as we learn about our customers and generate hands-on experience the solution we find for the RV "Blues" and Camper Van "Sorrows" caused by storage inefficiencies lies in the all new 2017 AerFoil Black Box Cargo Carrier. Boasting an extra capacity of over 51 Cu.Ft. of cargo space, the Black Box finds its self as the ideal way to carry more gear safely in an enclosed weather-resistant space.
When seeing the Black Box for the first time RVer's are always astonished with the hitch carriers extra large size and 300 lbs carrying capacity and naturally, have a lot questions about this impressively looking carrier:
Can The Black Box Fit My Bikes?
Yes, it can! Using accessory 3D AerBike bicycle mounts the Black Box can actually carry up to FOUR bicycles inside the enclosed security of the carrier. The 3D design allows AerBike to be configured for bicycles of virtually any size with a standard fork mount. Check out the this custom 4x4 Mercedes-Benz BlueTec Sprinter we helped our outfit for our friends Jeff and Ann; they've been able to turn the rear of their RV into a expansive closet with they space they have saved by storing their large DownHill Bicycles inside the Black Box!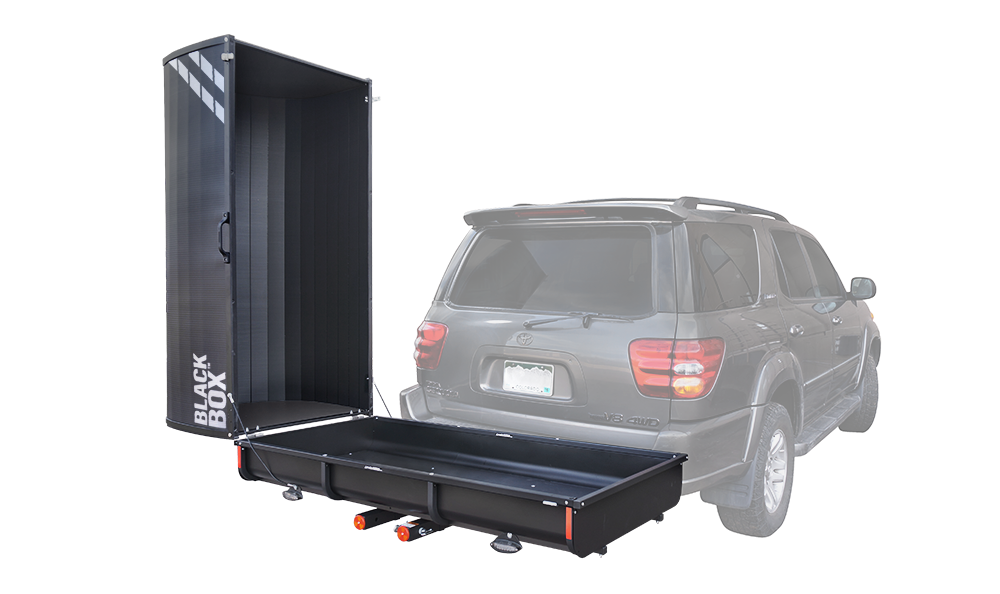 But Wont The Large Carrier Block My Doors?
Absolutely not! Black Box TwinTube technology slides out and away from the vehicle for up to 33" of rear clearance; leaving plenty of room to fully open even large Sprinter Van Doors. The thin, slim-line platform design leaves space for walk-up access to rear cargo and equipment and enough room to extend pull-out drawers.
I Have A Spare Tire/Gas Can/Ladder On My Rear, Will The Carrier Still Fit?
You can! We've added simple built-in adjustments to expand the installed clearance space between the Black Box carrier and the vehicle up to 14". If more space is needed for our RV Adventurers, we have the solution with an accessory 7" Shank Extension option that extends the installed space from 14" up to 21" and once added will account for larger Gas Can Storage and even 4x4 Spare Tires. With the 7" Shank Accessory you can even extend the Black Box Cargo Carrier's overall slideout clearance all the way to a maximum of 40".
Will The Black Box Block My Tail Lights?
While the extra-large carrier may block your rear tail lights and turn signals, never fear! The Black Box carrier comes standard with easy-to-install, LED Lights and Four-Flat wire connections that plug-in directly to your vehicles Trailer Light Reciprocal for STOP/TURN/TAIL functionality and night visibility.
Can My Generator Fit Inside The Black Box?
The Black Box is the perfect solution for generators! The large interior measures 72" x 32" x 39 and 300 lbs weight capacity is big enough to hold most portable generators and even some larger ones with capabilities up to 10,000w. For increased safety and convenience, the Black Box can be upgraded with the Landing Gear wheel mounts, allowing the open carrier to be easily rolled away from the RV while the Generator is in operation to help mitigate distracting vibration and noise. As always we highly recommend confirming your product dimensions and weight compatibility before making your purchase.
The more questions we answer, the more often we find the best storage solutions for the "RV Blues" is our Black Box carrier. Of course we know that one-size does not always fit all, so we are always open for any questions or insights into our LGA products. As the RV and outdoor industry expands, we look forward to learning more about the needs of customers and how we can find everyday solutions for luggage and equipment transport.