Author Team Let's Go Aero / Category Cargo Carriers / Published: Oct-10-2017
UPDATE: The Flat Pipe Spine (P/N H01373) now only fits GearSpaces model years 2021 or newer. 2021 GearSpaces and newer must use Flat Pipe Spine -27in (P/N H00420).
Not all vehicle rears are the same, such that the best fit can be an art. Matters such as the vehicle's overall size and hitch height play part to how a cargo rack or storage box will work in tandem.

Our most popular enclosed cargo carrier, the GearSpace at an immense 34 cubic feet, meets real life capacity needs in a spacious capsule using significant rear vehicle real estate. To mitigate the effects of blocking rear window visibility, we have introduced a new Flat Pipe Spine accessory. However, there is a trade off with rear ground clearances based on the vehicle's hitch height to consider.
The Gearspace molded capsule is 40in tall (by 68in long and 28in deep inside), with a dual tube slide out mount platform referred to as TwinTube. Built into the TwinTube design is a 6in rise, an integral part of the GearSpace for worry free ground clearance over speed bumps, pot holes, and steep driveways on any vehicle. For the RV Class B Sprinter Vans, minivans, and other vehicles with comparable hitch heights of around 12 inches, it is practically essential to get around without having to drive slow and gingerly all the time. Factoring the 2in hitch it slides into, the overall height from bottom of the hitch to the top of the capsule is 48 inches.
For enhanced rear window visibility needs and adaptablility among ranging vehicles, Let's Go Aero has newly released the Flat Pipe Spine accessory device with all the same slideout features as the TwinTube Highpipe.
The Flat Pipe Spine is a TwinTube based platform accessory that can be used with all Let's Go Aero slide out cargo carrier models having an integrated 6in High Pipe Spine. Flat Pipe does not have a built in rise; the 2in shank is inline with the vehicle hitch, thereby positioning the carrier at the same height as the vehicle's hitch. Use of the Flat Pipe removes the 6in platform rise, rendering an additional 6 inches of rear window visibility.
For vehicles with higher hitch heights like the Toyota Sequoia at 16 inches, other full-size SUVs, pick up trucks, Class A RVs and the like, this is beneficial as they have ample ground clearance. Those vehicle owners concerned with rear visibility can enjoy the best of both clearances - ground and window viewing.
So how do I know if the Flat Pipe is right for me?
Customers considering purchasing the Flat Pipe Spine should measure from the hitch pin hole up to 48 inches, mark this distance on their rear window and note that any space below their mark will be blocked by the GearSpace carrier. If more window visibility is needed once the mark is reviewed, the Flat Pipe will offer a choice for lowering the carrier and creating more space in the rear windshield.
Generally speaking, we recommend the Flat Pipe accessory for hitches higher than 14 inches for worry-free driving comfort. Lower hitched vehicles may see over the top of the carrier according to measurement, and the side view mirrors are unobscured by the cargo carrier.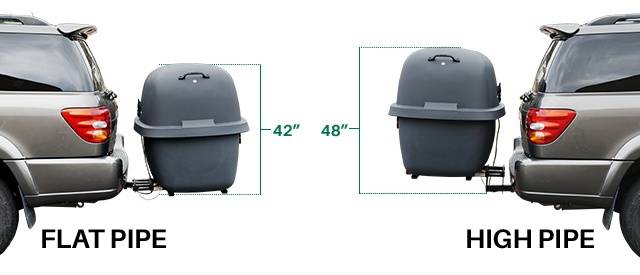 Of course the Flat Pipe Spine is not right for everyone. GearSpace owners should always consider the ground clearance of their vehicle before purchasing a Flat Pipe accessory. Customers with lower hitches using the Flat Pipe should always take care to avoid 'bottoming-out" and damaging the bottom of the carrier.

If you're still unsure whether a Flat Pipe Spine is right for your carrier and vehicle, you can contact us or call our office at (719) 630-3800 to speak with a customer service representative about your specific needs.