V-Lectric is the slide out hitch rack transport solution for electric bicycles
Author Team Let's Go Aero / Category Bicycle Carriers / Published: Feb-04-2020
You've spent a lot on your e-bikes and want to travel with them on your RV or SUV hitch. E-bikes can weigh anywhere from 45-75 lbs, and you've discovered they exceed the weight rating of most bike racks. And, if you want to carry more than two, there is virtually no hitch rack available with a four bike option - until now.
With the booming popularity of electric bikes, we've been spurred on to develop the V-Lectric Slideout e-Bike Carrier using our proprietary Let's Go Aero V-Rack™ and TwinTube® designs.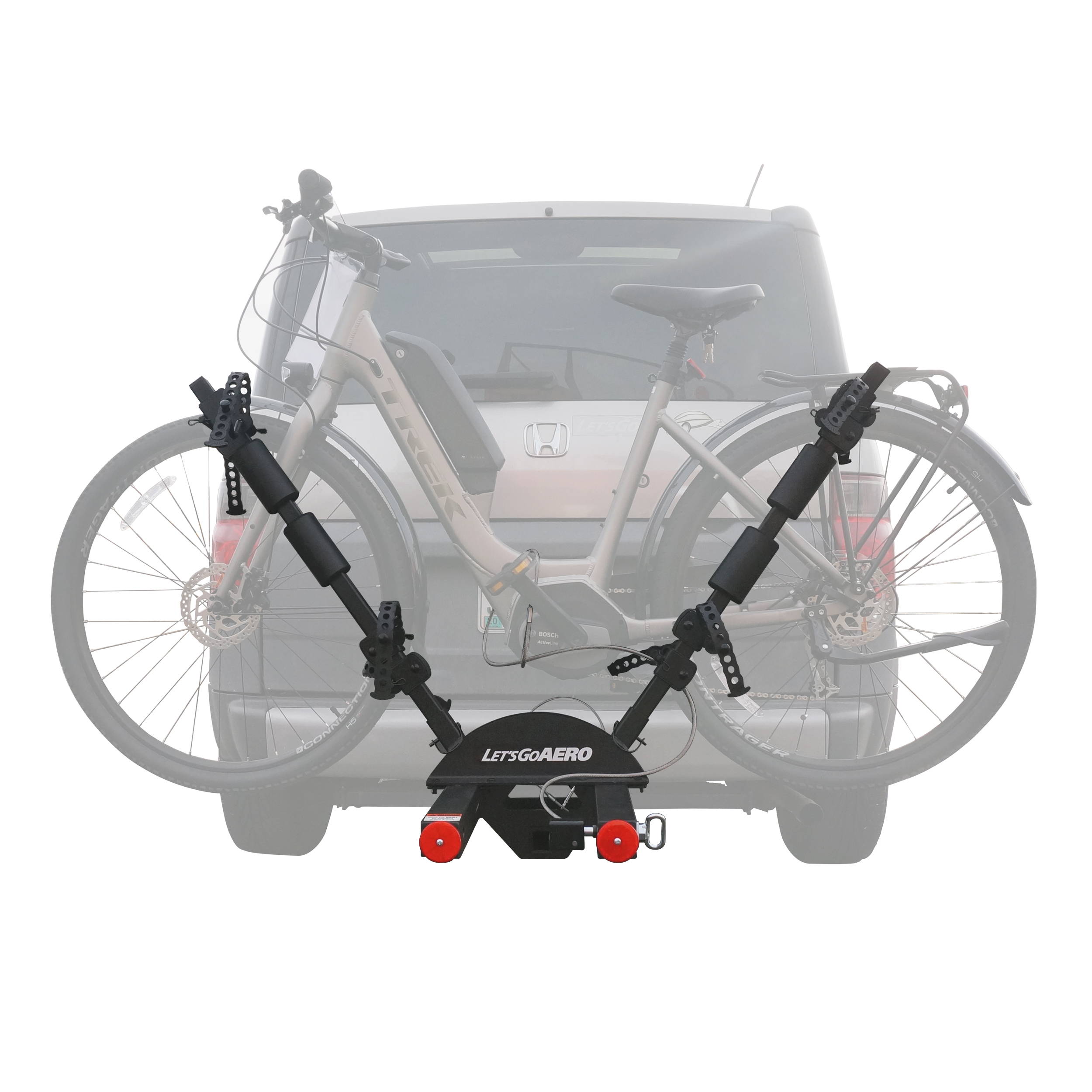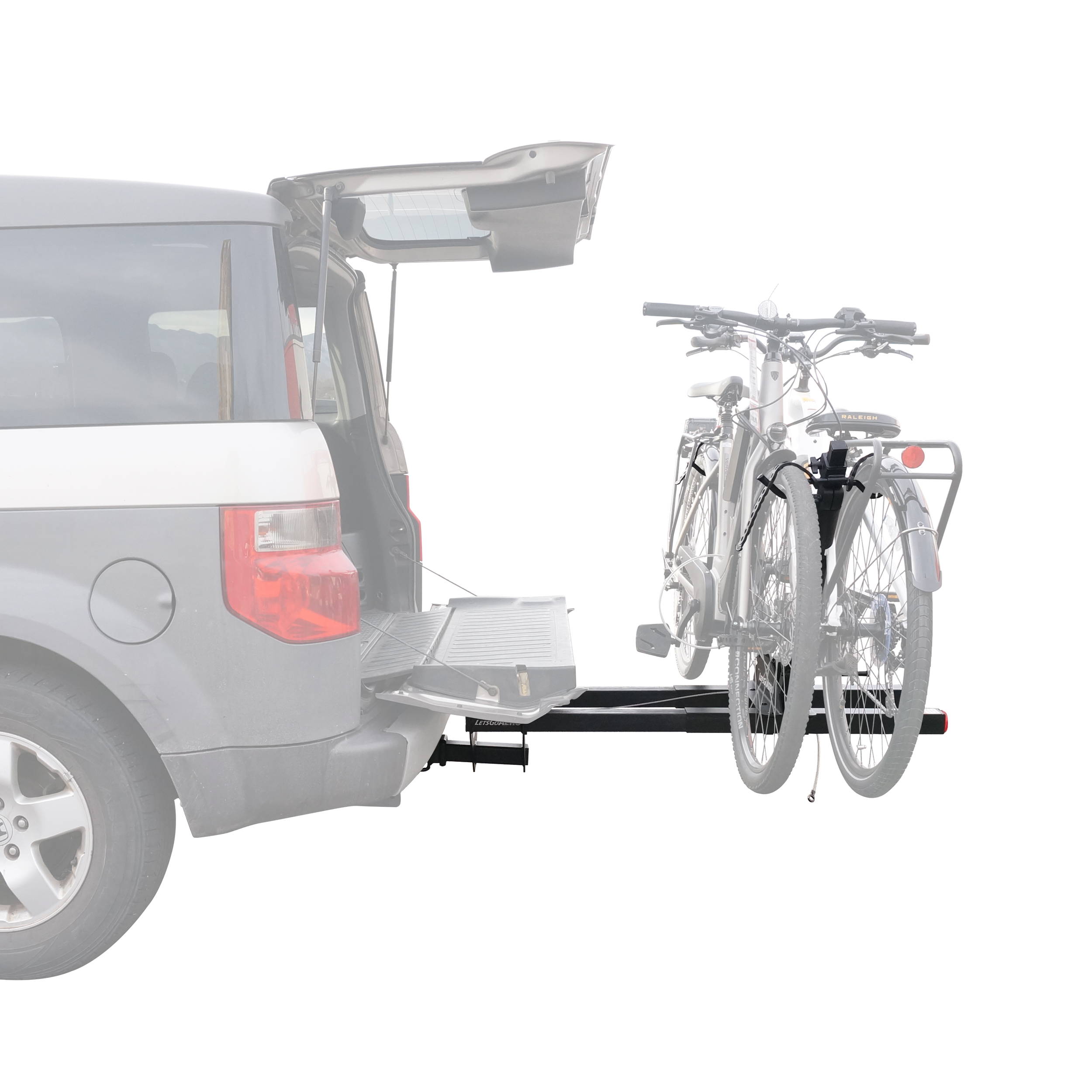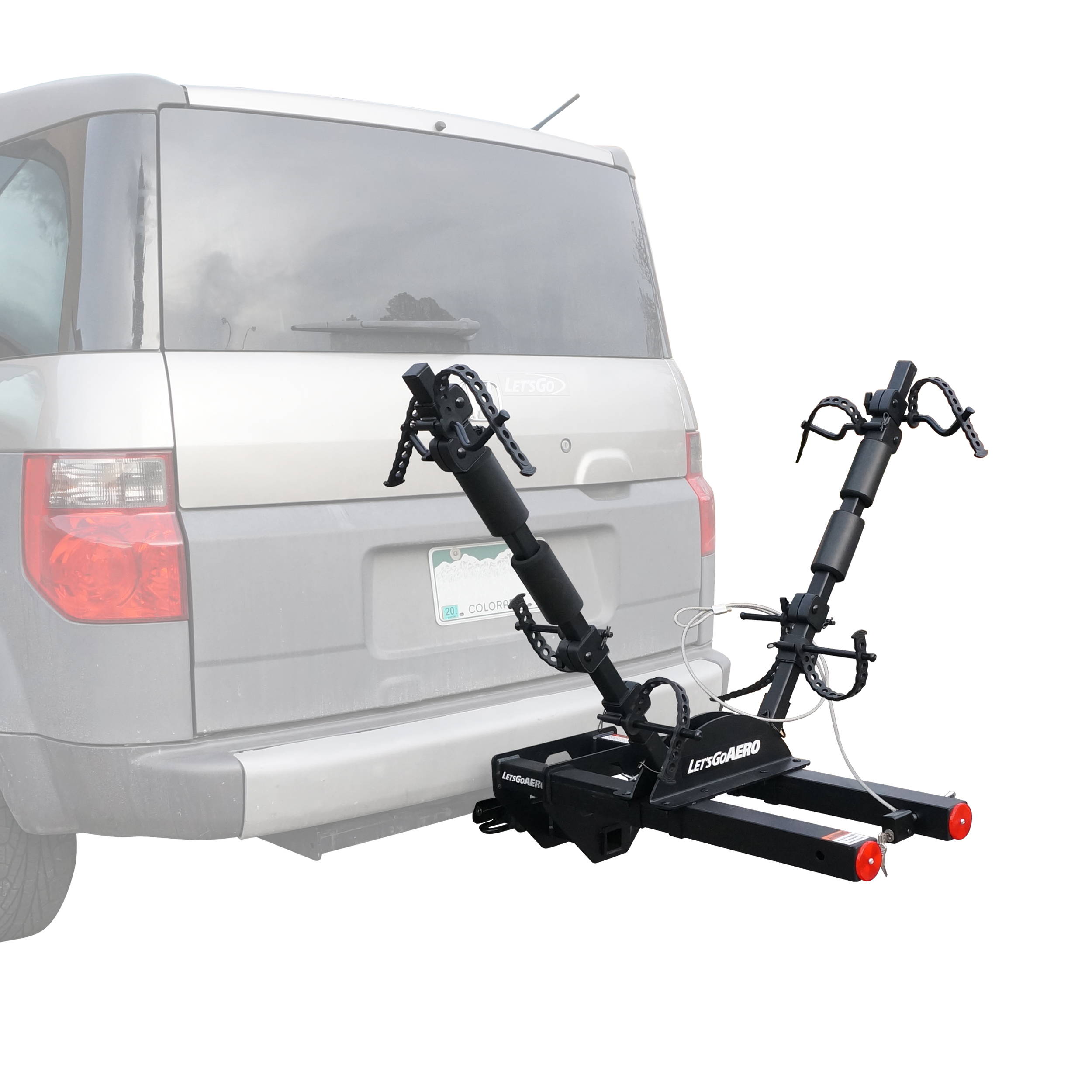 TwinTube® Platform Mount Support for Exceptional Strength, Slideout Function, and RV Travel Trailer & Fifth Wheel Approved Use
The V-Lectric electric bike carrier is built upon our GMC Professional Grade award-winning TwinTube hitch mount platform. Just as the name implies, TwinTube uses a dual tube structure for exceptional strength and stability, and is loaded with features for user-friendly handling and performance. Once attached to the hitch, the structural platform rises 6 inches and separates into two rearward extending tubes with cross channels for the ultimate balance, load support, and great rear ground clearance. The tube-on-tube design provides slide-out functionality to clear Sprinter RV doors, SUV hatches, and tailgates. And, loading bikes is a breeze.
With the inclusion of two of our industry leading Silent Hitch Pins in every V-Lectric to remove rattle and free-play in the hitch, you will enjoy a quiet and motionless ride.
As a TwinTube technology based product, V-Lectric is built for the most demanding tow environments and enjoys our stamp of approval for both motorized and RV towable use on fifth wheels and travel trailers!
V-Rack™ Wheel Touch Support & Zero-G™ Bike Stability
Utilizing Let's Go Aero's proprietary V shaped design, bikes are supported by the wheels, not the frame, allowing all slanted and curvy framed electric bike to ride level and fixed. Loading bikes is a breeze by suspending one wheel at a time on the easily adjustable upper wheel cradles; two equally adjustable lower wheel cradles with rubber straps provide a 4-point connection per bicycle, suspending bikes motionless and balanced on the V-Wings, thereby freezing bikes for Zero-G™ stability. For casual contact while mounting, the V-Lectric also includes two foam bumpers on each V-Wing, providing bike-to-bike and frame protection.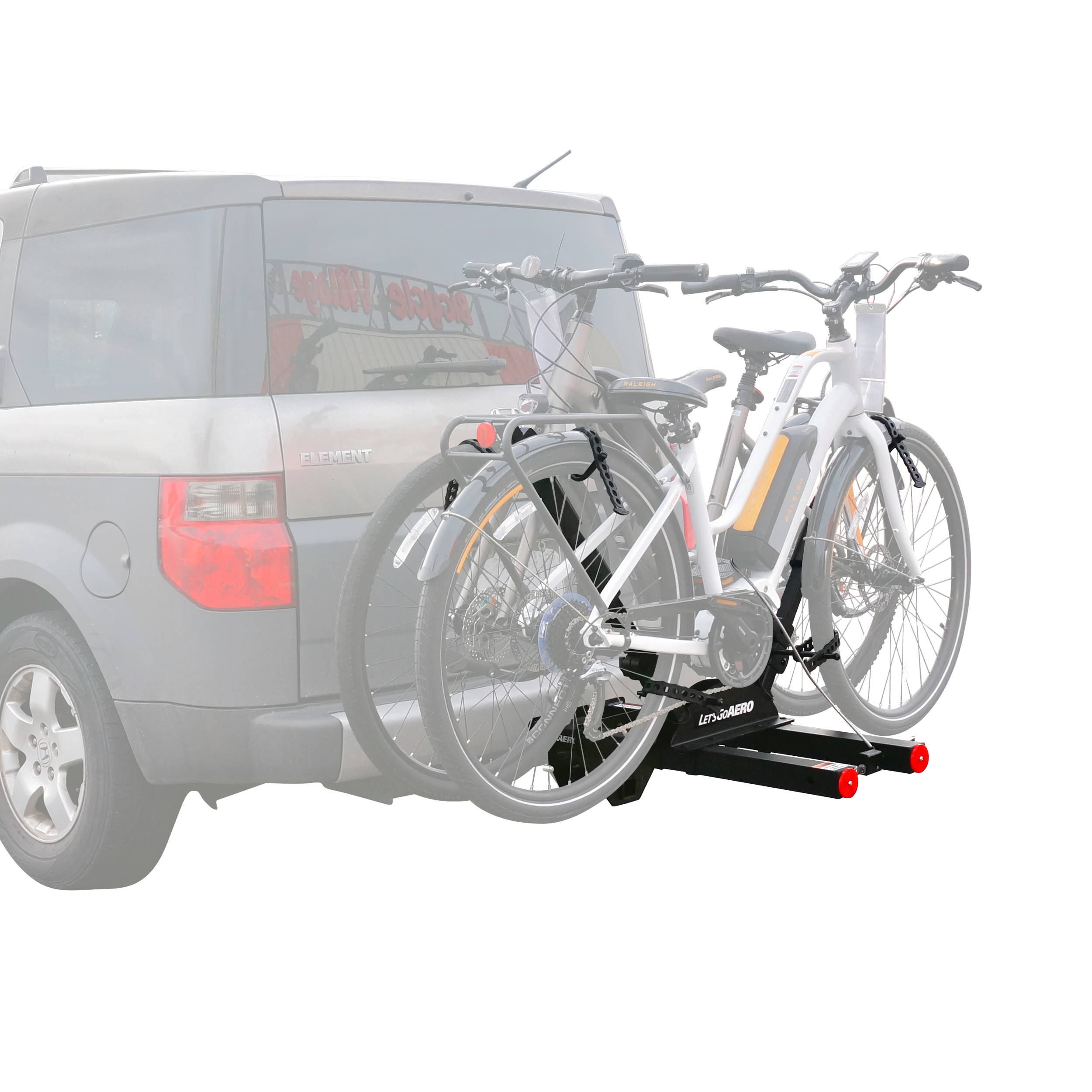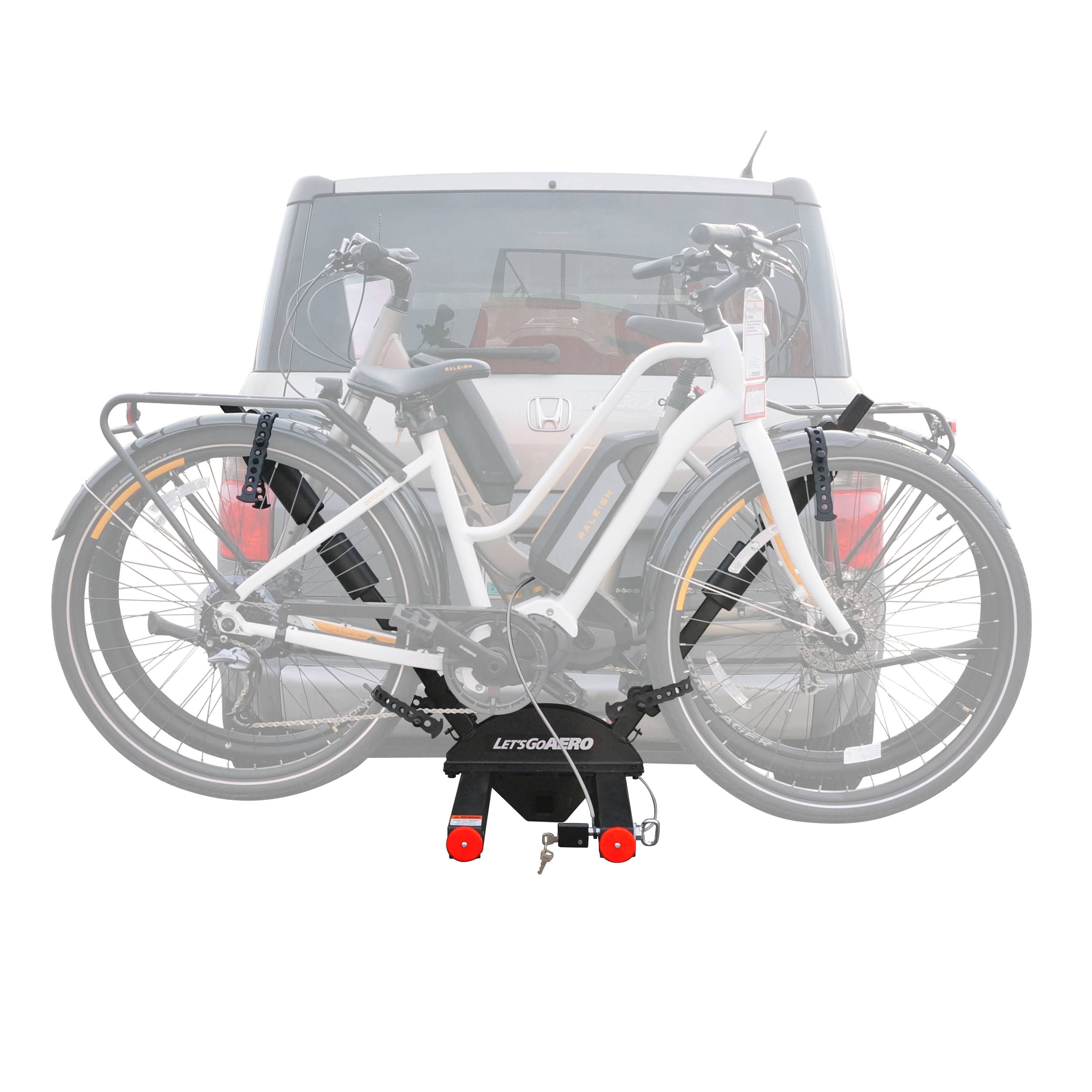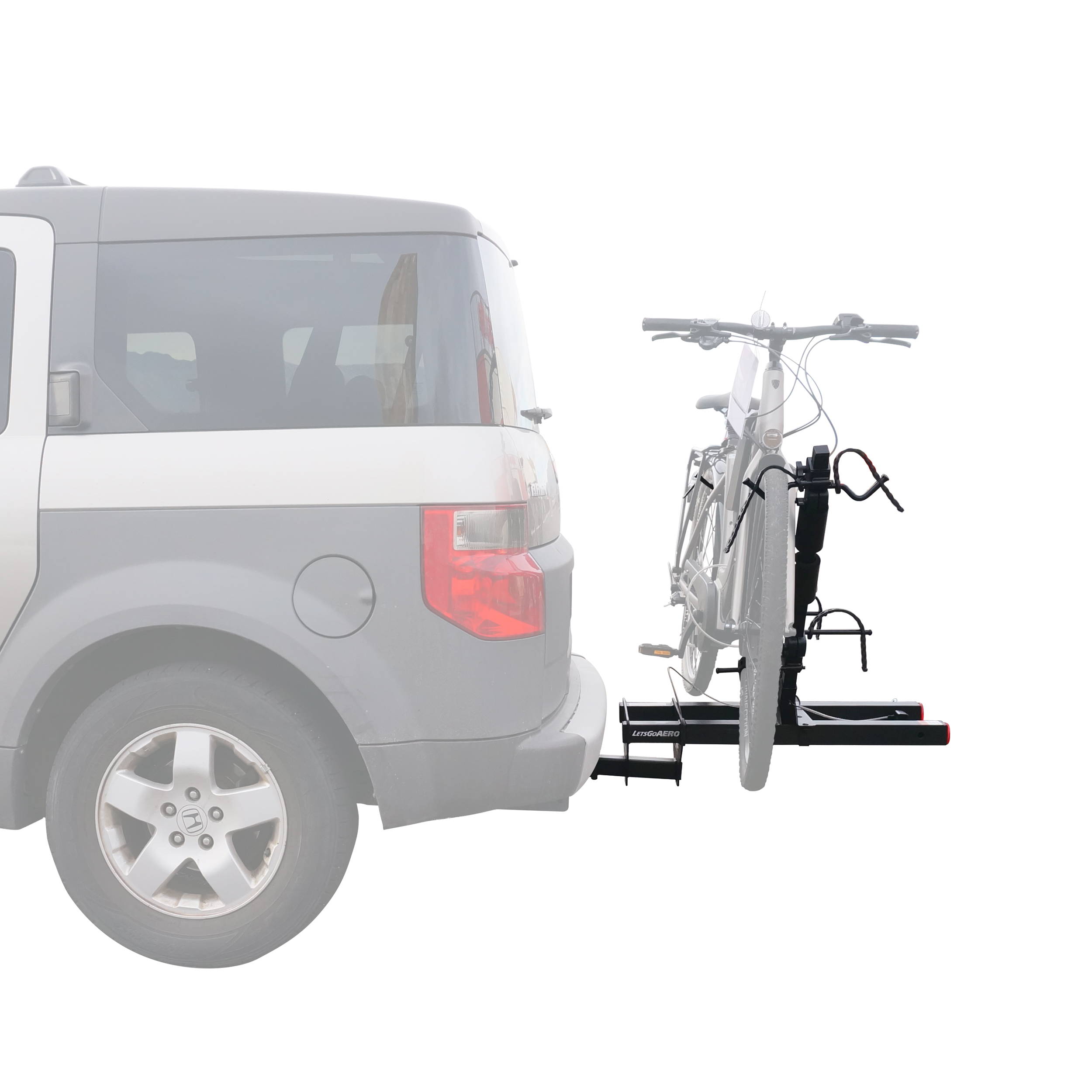 Theft is more rampant than ever, and V-Lectric is on super lock down. For peace of mind and a more worry-free ride, included is a custom designed cable and two common-keyed hitch pin locks (one for the hitch and one for the slide-out function). Bikes are locked to the rack, and the rack is locked to the hitch.
Modular design means easy handling and storage
V-Lectric's modularity is a game changer for many folks when it comes to handling heavy equipment. In an arena of very heavy racks, V-Lectric is relatively light at 65 lbs. Even better, V-Lectric's weight is separable into a two part tube-on-tube system for loading and unloading. That separates 65 lbs into 25 & 40 lbs. Even further, V-Lectric's V-Wing support arms are easily removable for compact storage and further weight reduction if needed. Even mom and the kids can install a V-Lectric for hitch up and go!
Four bikes with V-Lectric add-on
V-Lectric's TwinTube platform strength and spacious design offers room for more electric bikes. Add two bikes with the V-Lectric Two Bike Add-On accessory offering to carry four bicycles in total. V-Lectric is rated for 75 lbs per bicycle for a payload capacity of 300 lbs, no sweat.